Brothers Joey, left, and Anthony DePasquale, of Lower Windsor Township, visited the governor's office to present a petition condemning puppy mills to Gov. Tom Corbett in person. Their adopted rescue dog, Franklin,came along.
Joey and Anthony DePasquale are brothers to the rescue.
"There are puppy mills out there doing horrible, terrible things to dogs, torturing dogs," said Anthony, 12, of Lower Windsor Township. "We're striving to stop them."
On Tuesday, the DePasquale brothers presented to Gov. Tom Corbett a 13,000-plus signature petition asking the state to stop puppy mills that neglect and abuse dogs while using the animals to breed for profit.
"It was awesome," said Joey, 13, referring to the meeting with Corbett. "When me and my brother put our minds to it, we would be able to do something to help save innocent animals' lives."
The brothers and their parents, Kate and Joe DePasquale -- a cousin of Pennsylvania Auditor General Eugene DePasquale of West Manchester Township, are volunteers with Castaway Critters in Harrisburg.
They help rescue animals from puppy mills and have provided foster care for several rescued dogs.
The family rescued and adopted Franklin, a male bichon between 5 and 7 years old, Kate DePasquale said.
Joey and Anthony said they saw puppy mills where dogs were mishandled, beaten, had broken bones, bad teeth and matted hair. The animals were placed in wire cages that were overcrowded, the boys said.
"That's why we did the petition," Joey said. "We wanted the governor to know how bad (puppy mills) are and that we'd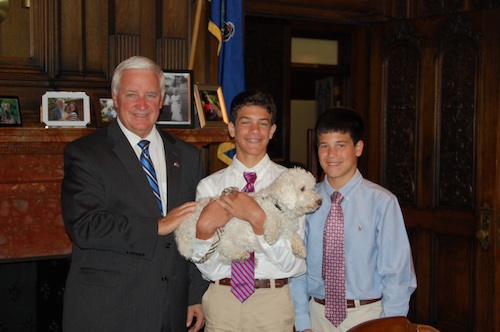 be willing to help with whatever decision he makes to stop them and we want him to enforce the laws we already have." The petition: Since starting the petition in June, Joey and Anthony have collected handwritten signatures as well as online signatures at
www.thepetitionsite.com
The website is done by Care2, a Redwood City-based organization that gives people opportunities to support various social causes, including issues concerning animal abuse, politics, human and women's rights and education.
For Joey and Anthony's puppy mill petition, online signatures came from throughout the U.S. and from Russia and China, Kate DePasquale said.
The meeting: Kate DePasquale said she contacted the governor's office and told the staff what Joey and Anthony were doing and that they wanted to present the petition to Corbett in person.
The family took Franklin along for the visit with Corbett, she said, adding that the governor really took time to listen to Joey and Anthony's puppy mills concerns.
"We're so proud of them," she said. "They're very serious, very passionate about this issue and they really want to educate people about this. It's all simple for them. They see something wrong and want to do something to stop it."
The DePasquale brothers also started a humane club at York Country Day School, where Joey is an eighth-grader and Anthony is in the seventh grade.
The club collects blankets, toys and monetary donations to benefit rescued dogs and shares photos of the animals to raise awareness about the puppy mills, Anthony said.
"I really like what we've been doing, but we would love to do a lot more," he said.
-- Reach Eyana Adah McMillan at emcmillan@yorkdispatch.com.